PICTURE by Goal.com
This article was written for One Love Arsenal – a Facebook page set up for Gooners which has always supported me whenever I post any Arsenal related content on AFEFootballNews – thanks guys!
IF ARSENE Wenger was to write a book about his 22 years of managing Arsenal I'm sure he would have a lot to say for himself.
In 1996, a bespectacled and rather whacky looking Frenchman marched into the press conference as he took over the reigns at Highbury. Few could have believed what was to come in the next two decades.
Having managed in Japan with Nagoya Grampus Eight and in his homeland with Monaco (where he won the league), very little was expected of Wenger in England and many critics doubted that anything good would ever become of him.
However, A roller coaster of emotions which included 1,234 games in charge, seven FA Cups, seven Community Shields and three Premier League titles (including a certain unbeaten season) and an agonising Champions League final loss is how Arsene Wenger will now remember his time spent as Arsenal boss.
Here, I count down some of the highs and lows of his reign at North London's finest club (no contest!) during both the Highbury and the Emirates days (all my own opinion of course and feel free to disagree) …
Five HIGHS
Winning the league at Tottenham
Not many teams will have experienced the feeling of winning the Premier League title at their bitter rivals' ground but Arsenal did just that at the end of their formidable unbeaten 2003-04 season.
Spurs may have fought back from 2-0 down on that day, but a point was enough to ensure The Gunners were crowned champions in front of an angered White Hart Lane faithful crowd.
Sol Campbell bore the brunt of the abuse from the Spurs fans that day as he had – in their eyes – committed the ultimate crime of leaving the Lane to sign for the better side of North London. However, it was Campbell, Wenger and co who got the last laugh when they lifted the Premier League title there. BEAUTIFUL.
Winning the league at United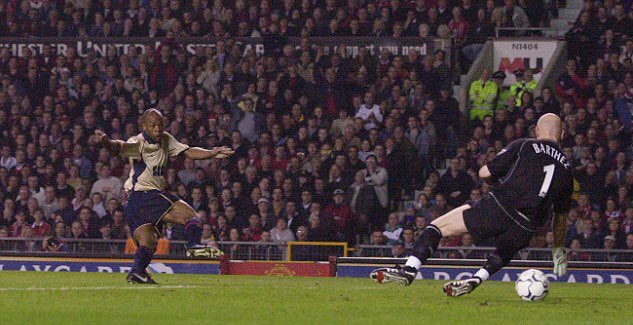 Arguably even better than winning the league at The Lane seeing as United we're far more on our level than Spurs we're back in the early 2000's (I really miss those days by the way!).
At the end of the 2001-02 season, the Premiership title was to, fittingly, be decided at Old Trafford as Arsenal and Manchester United faced one another in one final and decisive encounter.
The Gunners only required a draw to guarantee their second title in five seasons to go alongside their FA Cup victory against London rivals Chelsea four days previously; with United having to win to take the title race to the last day.
In the end, Arsenal emerged victorious as their then-record signing Sylvain Wiltord bagged the winner (pictured above). Arsene Wenger took this side to their second double under his guidance and signed a further four year deal with the club. Good times.
A thrashing for Inter
This one was perhaps one of the most memorable wins for Wenger during his reign at Arsenal.
Despite being an unbelievable force in English football in the early 2000's, The Gunners had seriously struggled to make a name for themselves on the European scene. So, this win against Italian giants Inter certainly seems surprising when we look back at it now.
Thierry Henry poked Arsenal in front before Christian Vieir's shot took a wicked deflection and brought the hosts level. However, further goals from Freddie Ljungberg, Henry again, Edu and Robert Pires completed a truly memorable win against an Inter side which had beaten them 3-0 at Highbury a few weeks earlier.
It was as surprising as it was convincing for a side that had really struggled in the Champions League and it will go down as one of Wenger's greatest moments in Europe.
The "Invincibles" season
As mentioned earlier, Wenger led Arsenal to one of the greatest achievements in English sporting history during the 2003/04 when his side maintained an unbeaten season in the Premier League.
The Frenchman had seemed to assembled the perfect squad at this point in PL history and it certainly paid off for him. He had the genius of Dennis Bergkamp, the brilliance of Thierry Henry, the skill of Robert Pires, the steel of Patrick Vieira and Gilberto Silva and a solid back four and keeper. It seemed to be perfect.
They became the first club since Preston North End way back in 1889 to go through a season without being beaten in the league.
Wenger proved the critics who doubted his claim that Arsenal could go a whole season without defeat wrong and I don't see that feat being beaten by any other club any time soon. Even the mighty Manchester City and Pep Guardiola couldn't do it this season.
FA Cup 2014
This one was more a weight off the shoulders than anything else to be honest.
After nearly a decade of no trophies at the club, the hoodoo was finally broken in 2014 when The Gunners beat Hull City 3-2 at Wembley in May.
Things couldn't have got off to a worse start though – as The Tigers raced into a 2-0 lead early on and Gooners everywhere began to sigh "here we go again".
However, an inspiring comeback thanks to goals from Santi Cazorla, Laurent Koscielny and an extra time strike from Aaron Ramsey secured a famous FA Cup final win for Arsenal (the clubs 11th at the time and Wenger's fourth although he would add two more in 2015 and 2017)
This was much to the relief of the fans and indeed Wenger, who's job had been under fire for quite some time before the match (and after it too eventually!).
Five lows:
2000 UEFA Cup final
It's no secret that the one thing missing from Wenger's illustrious trophy cabiner is a lack of a European trophy, despite competing on the continent in one way or another every year.
The Gunners had a great chance to end that hoodoo on in the year 2000, when they progressed all the way to the UEFA Cup final, facing Turkish side Galtasaray in Copenhagen (Denmark).
After a fairly boring and scoreless 120 minutes of football, the match was to be decided on penalties, which as it turned out, couldn't have gone much worse for Arsenal on the night.
Davor Suker and Patrick Vieira missed their spot kicks, whilst the Turks netted all four of theirs to walk away with the trophy. It was surely one of Wenger's hardest defeats to take and I have no doubts that he still wonders "what if?" to this day about that match as it was a golden opportunity to claim European success.
Paris 2006
If 2000 was tough to take, then this one was even harder.
Goalkeeper Jens Lehmann became the first player to be sent off in Champions League history (typical) when he "brought down" Barcelona's Samuel Eto'o just outside the box.
Despite Barca's numerical advantage, it was Arsenal who took the lead on 37mins when Sol Campbell of all people rose high to head home. However, a late fight back and goals from Eto'o (76mins) and Juliano Belletti (80′) saw the Spanish giants go on to lift the trophy.
You could argue that Arsenal gave it their all with 10 men on the field, but I won't forget one thing about that match – the fact that Thierry Henry seemed half the man he usually was on that night, almost disinterested. He then went on to sign for Barcelona the season after. Suspicious.
An 11 year old me bawled my eyes out that fateful night as I knew that that was the closest we'd come to winning a major European title for many years to come following it (we haven't been anywhere near since).
League Cup Final 2011
This was very embarrassing and unexpected too in all honesty. Many fans had expected Arsenal to walk all over Birmingham in the League Cup final in 2011, but that was most certainly not the case.
The underdogs certainly seemed to have turned up in high spirits as they took the lead through giant Serbian striker Nikola Zigic. Judas aka Robin Van Persie equalised for Arsenal via a spectacular volley.
Birmingham goalkeeper on the day Ben Foster produced save after save to deny us the win before a calamitous mix-up at the back between Laurent Koscielny and Wojciech Szczesny, who were both new at the club at the time, allowed Nigerian forward Obafemi Martins the simplest of chances to poke home and hand the Cup to The Blues.
Utter disaster for Arsenal, who's wait for a trophy had stretched to six years following this defeat.
8-2 at Manchester United
By far the most embarrassing defeat I've ever had to endure as an Arsenal fan, not least because I know so many United fans who could gloat about it.
United went goal crazy as we fielded a terrible line-up which included Francis Coquelin on the wing and Carl Jenkinson and Armand Traore as full-back's.
Sir Alex Ferguson's side's goals came via current Arsenal forward Danny Welbeck, Ashley Young (2), Wayne Rooney (3), Nani and Park Ji-Sung. After the match, Fergie himself had said that he hoped his side would stop scoring as he had felt embarrassed for Wenger and Arsenal.
It must surely have been Wenger's most shocking defeat as Arsenal boss. I sincerely hope that neither I nor him live to see the day we concede eight goals again.
Finishing the way he did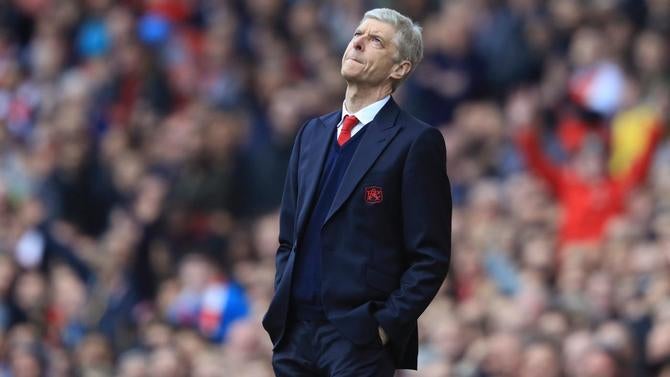 Let's be honest for a moment here and say – Wenger probably did stay at least four years too long didn't he? After the glory years of the late 90's and early 2000's, it was always going to be tough for the Frenchman to follow up on that success.
Try as he may, it was hard for him to compete with other clubs, especially with the club having spent a lot of money in making the move from Highbury to The Emirates Stadium in 2007.
Credit to him though, despite heavy criticism and even pure hatred from certain parts of the crowd being hurled towards him, he consistently (up until two/three seasons ago) took a bang average squad to a fourth place finish.
However, as other clubs changed manager (i.e. City and Liverpool etc) and began to spend more and more money, it became harder and harder for the Frenchman to stick to his old fashioned ways and his classic tactics.
To remain as Arsenal boss, he would have had to change his outlook on the game and I'm afraid that the man is just too stubborn and proud to ever do that. Fifth and Sixth place finishes are the harsh reality of how modern football has caught up to him.
Yes, we have won three FA Cup title in the past four years and ended a decade of hurt in the process, but in the grand scheme of things, I do believe that change should have been made a long time ago so that we didn't fall as behind as we are now in the Premier League title race.
—————————————————–
Here are some other top five's from Wenger's long tenure at Arsenal (again my own opinion):
SIGNINGS: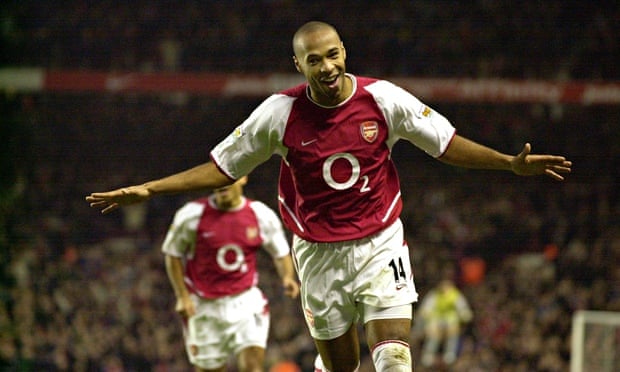 Top five best French signings
Thierry Henry, Patrick Vieira, Robert Pires, Laurent Koscielny and Olivier Giroud.
Top five underrated signings
Nacho Monreal, Gilberto Silva, Kolo Toure, Bacary Sagna and Aaron Ramsey.
Top five players brought through the youth system
Ashley Cole, Jack Wilshere, Hector Bellerin, Wojciech Szczesny and Cesc Fabregas.
Top five pointless signings
Park Chu Young, Takuma Asano, Kim Kallstrom, Amaury Bischoff and Igors Stepanovs.
—————————————————
MATCHES:
Top five biggest scoreline wins
7-0 v Slavia Prague (Champions League, October 2007)
7-0 v Everton (Premier League, May 2005)
7-0 v Middlesbrough (Premier League, January 2006)
7-1 v Blackburn Rovers (Premier League, February 2012)
6-0 v QPR (Away in FA Cup, January 2001)
Top five heaviest losses
10-2 (5-1 in both legs) against Bayern Munich (Champions League, 2017)
8-2 to Manchester United (Premier League, August 2011)
6-0 to Chelsea (Premier League, March 2014)
6-1 v Manchester United (Premier League, February 2001)
5-1 v Liverpool (Premier League, February 2014)
—————————————————
Top five quotes from the man himself:
"I cannot classify the moments of happiness and of sadness, but every defeat is a scar in your heart that you never forget." 
"One of the things I discovered in Japan was from watching sumo wrestling. At the end you can never tell who has won the fight, and who has lost, because they do not show their emotion because it could embarrass the loser. It is unbelievable. That is why I try to teach my team politeness. It is only here in England that everybody pokes their tongue out when they win."
"A football team is like a beautiful woman. When you do not tell her, she forgets she is beautiful."
"I believe [team spirit] is a little bit like a flower. You have to take care of it and look after it every day, or else it will slowly die. But as well, you can make the flower bigger, better and prettier if you care for it."
"The biggest things in life have been achieved by people who, at the start, we would have judged to be crazy. And yet if they had not had these crazy ideas the world would have been more stupid."
——————————————————
Over and above all, "Le Professor" as he's known, will be remembered as an icon in English football history.
His innovative and sometimes bizarre tactical and managerial decisions placed him above so many others and he changed the British game forever.
This is a man, after all is said and done, who somehow took a side consisting of Fabianski, Djourou, Denilson and the like to a fourth place finish.
Despite the mockery he's faced in recent years, it has to be said that Wenger is a LEGEND and it will be very, very hard for Arsenal to replace him in my opinion. Through the highs and the lows he's given us something to smile about.
He leaves with a Premier League record of having managed 823 matches in the top flight – with a in percentage of 57.5%. Although – this season has been his worst as Arsenal manager, with the club now having lost 12 matches in the PL this year. They've also finished with his lowest points total (max of 63 if we beat Huddersfield on Sunday) and have conceded 45 goals – the second highest total under Wenger.
It looks as though it was most certainly time to go.
One last thing to say I suppose: Thanks for the memories and for everything you've done for my club. It will be weird for me as I've never known Arsenal without you. Best wishes in whatever life brings you next.
——————————————————–