Match day three of the Welsh Premier League continued once again to surprise and entertain us with some great goals and some unexpected upsets too.
Llandudno pulled off the biggest shock of the weekend as they beat title-chasers Connah's Quay 1-0 at home thanks to a goal scored by Toby Jones, who was brilliant throughout on the day.
Elsewhere, Barry Town were unlucky to lose to champions TNS as they put up a lively display and fellow newcomers Prestatyn Town can be proud of the way that they played against Bangor too (despite being down to 10 men!).
Here's the full list of results:
Bala Town 2-1 Cardiff Met Uni
Bangor City 1-0 Prestatyn Town
Barry Town 0-1 The New Saints
Cefn Druids 2-0 Aberystwyth
Llandudno 1-0 Connah's Quay
Newtown 4-1 Carmarthen Town
So, what did we learn during these matches? Here's AFEFootballNews' five little discoveries from the weekend …
Prestatyn Town aren't the pushovers that critics first thought they would be.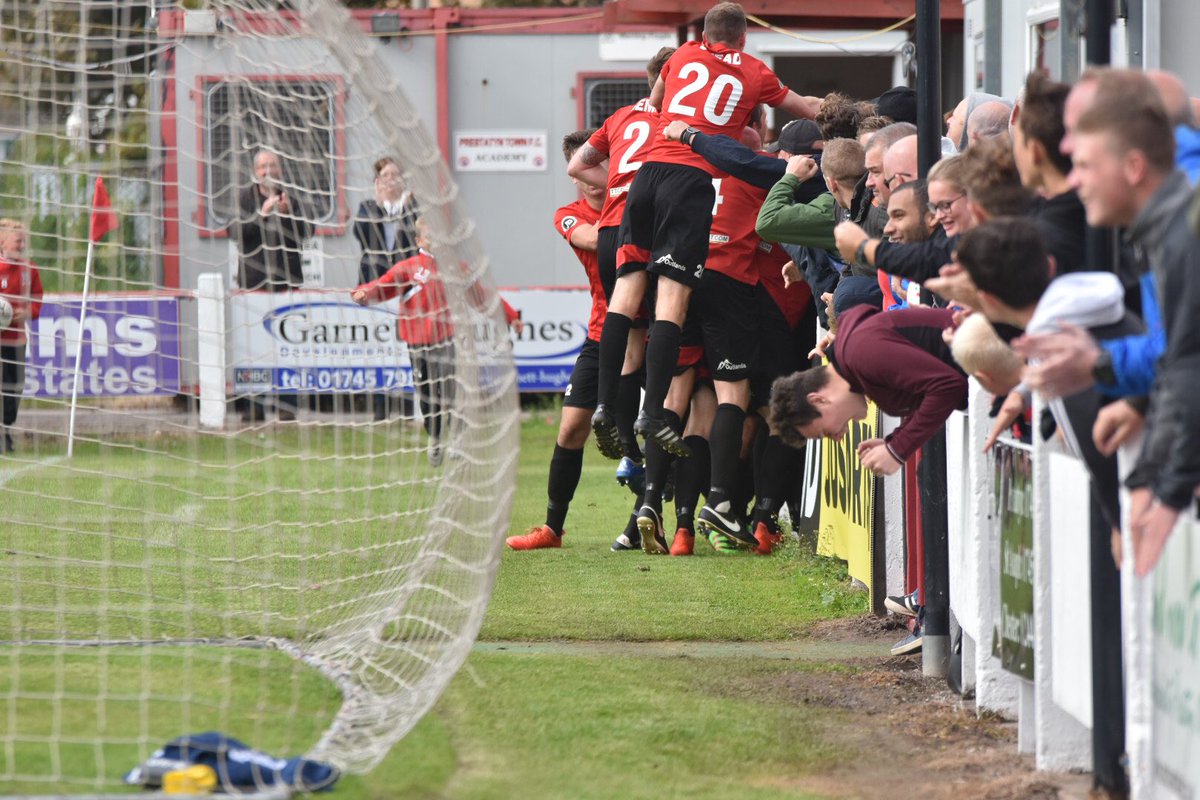 Prior to the beginning of the 2017/18 WPL campaign, many fans (including myself I must admit) had expected Prestatyn to struggle big time in the top flight, following the club's three year absence.
However, they're currently busy proving us all wrong with some decent performances.
They may have lost 1-0 to Bangor on Friday night, but some might say that they were slightly unlucky not to go on and nick something out of the game.
For much of the ninety minutes, the Seasiders matched Bangor in every aspect, even after they had gone down to ten men. They looked threatening in front of goal too.
Last week of course, they beat Barry Town with a last minute winner so they're certainly not to be ruled out just yet. If they can get a good run of games going much like they did in the HGA last year, they could survive comfortably come the end of the season, particularly as other teams around them are struggling at the moment.
Danny Gosset has a vital role to play at Bangor City this year.
In the absence of Gary Taylor-Fletcher on Friday night, Bangor needed a new creative spark in their side to create chances. Step forward Danny Gosset.
The local lad put in a Man of the Match performance at Nantporth as he worked tirelessly throughout to ensure that the Citizens took all three points off a spirited Prestatyn side.
It got me thinking, is the 22-year-old set to become a key component in this Bangor side this season?
Last year, he showed glimpses of what he could after moving to the club from The New Saints and I think that this season he will turn out to be one of their best players. He has a massive role to play, particularly after the departure of Henry Jones to AFC Fylde and I think we'll see him flourish and thrive off of that.
Llandudno could challenge at the very top.
The biggest shock of the weekend came at Maesdu Park as unfancied Llandudno pulled off a memorable 1-0 win over Connah's Quay.
Of course, the Nomads were reduced to 10 men for 60 minutes of the game, but you can't take away the fact that three points is three points and those could be vital for the Seasiders as the season goes on.
A goal from Toby Jones, who capitalised on a dreadful mistake by the Quay defence was enough to see Llandudno take the win. But can they now push on to challenge at the very top?
Connah's Quay are fancied by many as one of the teams who can go on to challenge TNS for the WPL title this year. So after Llandudno beat them at the weekend, is it fair to say that we can now consider them as serious contenders too?
3/3 wins has placed the club at the top of the Welsh Prem table and they are yet to conceded a goal. They look as thought they are re-discovering their form of 2015/16 and could possibly go one step further this year.
Will they keep up the pace? Or will they slip away eventually? Well, I for one am excited to see what they can do.
Wes Fletcher may be one to watch for the Golden Boot award.
As The New Saints narrowly beat WPL newcomers Barry Town at Jenner Park on Friday night, one man stood out in particular for me and that was the Saints' striker Wes Fletcher.
The 26-year-old scored once again to make it three goals in three games, which is already two more than he scored in his 16 appearances in the whole of last season.
Prior to the season, many would have thought that it would be Greg Draper, Alex Darlington or even Scott Quigley (who has now departed for Blackpool) who would be TNS' main man in front of goal, however Fletcher is putting that into serious doubt now.
Many had questioned new manager Scott Ruscoe's decision to play Fletcher up front, but it certainly seems to be working just fine.
He's made a surprising but nevertheless brilliant start to the campaign and I personally believe that he will be up there challenging the likes of Gary Taylor-Fletcher (Bangor City), Chris Venables (Bala Town) etc. for the Golden Boot come the end of the season.
He's shown maturity and a real eye for goal and I have no doubts that with the likes of Ryan Brobbel and Adrian Cieslewicz around him, the chances will continue to fall at his feet.
Carmarthen Town could be in trouble.
The Old Gold are currently at the bottom of the Welsh Premier League table and are the only team yet to pick up a point this season.
Mark Aizelwood's men have conceded a massive ten goals in their opening three games of the campaign and look really uncomfortable in defence at the moment. With just two goals scored as well, they really do look like they could be destined for trouble this year.
Losing 4-1 to Newtown at the weekend, highlighted all sorts of problems, particularly as the Robins themselves had seemed to have been struggling prior to that match.
They have some great players in their squad though. Goalkeeper Lee Idzi is one of the most experienced WPL players around having racked up over 300 appearances in the top flight and is still a decent shot stopper. Attacking midfielder Liam Thomas is a talent too, but has had a slow start to the campaign.
I think you have to consider the fact that a whole host of new faces came in to the club over the summer and so new players such as Declan Carroll and Kostya Georgievsky need to time to intertwine into the squad as well.
In the past, Carmarthen have been a side that have been more in or around the top six (like last season for example, when they were in the European play-off's), than near the bottom, but as it stands, it looks as though they may be fighting to stay up this time around if they can't discover some form real quickly.
---
Did you notice anything else that was interesting in the Welsh Prem this weekend? If so, let me know in the comments section below!
Make sure you keep reading AFEFootballNews for more articles on the WPL, the Premier League and beyond!