WELL, now that I've had some time to recover from Friday's Welsh Premier League madness at Bangor City's Nantporth ground, I thought I'd put this little piece together.
Many had predicted City to win their opening match against WPL champions TNS, but I'm sure that very few could have expected or anticipated such a margin of victory for the hosts as they walked a way with an impressive 5-2 win.
So where did it all go wrong for The New Saints? And what Bangor City do to achieve such a win? Here's my take on what we witnessed during the historic win for the Citizens.
TNS won't have it easy this year.
It's no secret that the Welsh Prem has almost been a walk in the park for the Saints over the past few years as they've cruised to six consecutive titles.
However, if Friday night is anything to go by then this year will most certainly bring about change in that respect.
TNS looked shaky right from the start and were 1-0 down inside the first five minutes when Brayden Shaw headed past Paul Harrison. Then after equalising they were 2-1 down just moments later as Gary Taylor-Fletcher nodded in.
2-2 at half time was something that Bangor would have been happier about than TNS and in the second half, the champions capitulated and completely lost their heads after the third goal had gone in.
Their efence was run ragged by Bangor's attack time and time again during the 90 minutes at Nantporth and although their attacking players matched City's in the first half, they fell off the pace in the second.
It will have been a worrying site for new manager Scott Ruscoe and his assistant Steve Evans to witness and will have them wondering how they can turn things around before their second game of the campaign against Bala Town on August 19.
The Saints struggled to deal with crosses into their box.
Anyone watching the match will have also noticed that TNS had some serious trouble with dealing with Bangor's crosses into their defensive area.
City scored three of their five goals courtesy of headers and so I think that tells you all you need to know about the Saints' back four on the night.
Caught out on the attack, beaten in the air, beaten with through balls, they just din't look confident at all and it was extremely unusual to see a side that was normally so comfortable in defence, look so unsettled.
Despite the fact that they had the usually calm and collected pairing of Connell Rawlinson and Steve Saunders at the back, they rarely won their aerial duels and that will be another major concern because they're both known for being center back's that use their height to keep strikers at bay.
It'll be interesting to see what changes are made to that back four in their next game.
Bangor's defence looks much stronger.
The strengthening at the back was bound to happen with the additions of Tom Kennedy and Danny Holmes to the squad over the summer and they both proved their worth on Friday night.
Last season, the Citizens had a torrid defensive campaign, conceding 53 goals. Only Aberystwyth Town (63) and relegated clubs Rhyl (76) and Airbus UK (78) conceded more in the league, so it was clear to see that some tightening up needed to be made in that defensive line.
On Friday night, Kennedy played at center back whilst Holmes played at right back. Both had debuts to remember, despite shipping two goals (although conceding only that many to TNS is actually quite impressive on the grand scheme of things!).
Holmes in particular wore his heart on his sleeve, flying into tackles and giving his all for the side. It was great to see passion like his out on the field and I think that Bangor have found the ideal replacement for former captain Gary Roberts already.
Brayden Shaw can be their star man this year and Cayola is pretty special too!
Shaw returned to the club this summer after spending part of the 2016/17 season on loan at Nantporth. He arrived in a reported club-record fee from Accrington Stanley and quickly made his mark on his second debut for City.
He put in a man of the match display, assisting one of Gary Taylor-Fletcher's two goals on the night and scoring two himself, including a wonderful 30 yard strike that dipped and swerved its way past Harrison and into the back of the net.
On that display alone, I believe that the 20-year-old could become vital to Bangor's hopes of success this year. The fans and everyone associated at the club already knew what he could do after his short spell there last year and so bringing him back was most certainly a smart move that could turn out to be one of the best deals the club has ever done.
Then there was the debut of Bolivian forward, Anderson Cayola, who impressed the crowd throughout.
His first touch and movement on the ball was truly a joy to watch and by the looks of things he's going to bring some serious South American flair to the WPL this season. He created space for his team mates all game long and gave TNS' defenders nightmares with his ability to turn quickly.
I personally can't wait to see what these two can bring to the table this year. If they can do that against the Welsh champions, then just imagine what they can do against, for want of a better word, "poorer" opposition.
Nicholson got it right tactically.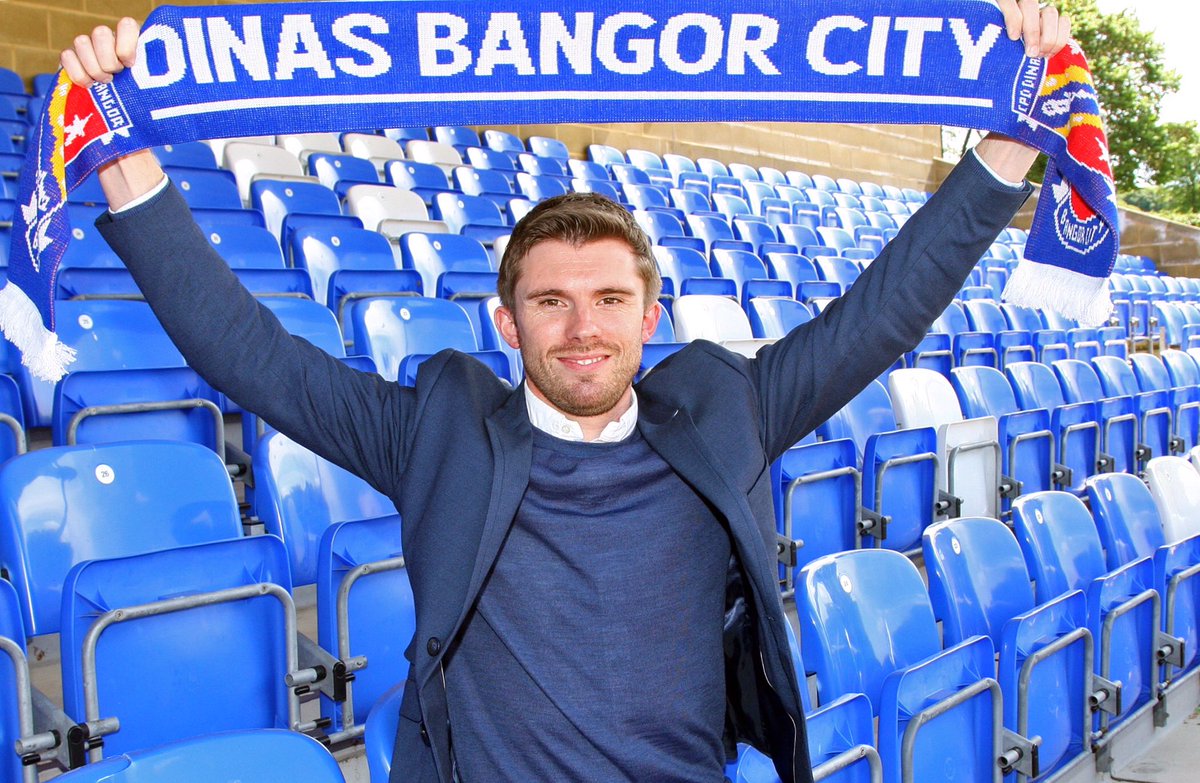 Let's be honest, newly-appointed Bangor City manager Kevin Nicholson couldn't have been handed a much tougher opening WPL match for his first game in charge could he? Or so we all (even him I'm sure) thought prior to the game.
He may not have been in charge of a senior side before (having coached at Cardiff and Derby's youth sides in the past) but he definitely seemed to get his team set-up to perfection on Friday night.
The line-up of Connor Roberts (GK), Danny Holmes (RB), Anthony Miley (CB) Tom Kennedy (CB), Laurence Wilson (LB), Brayden Shaw (RM), Danny Gosset (CM), Damian Allen (CM), Luke Wall (LM), Gary Taylor-Fletcher (CAM) and Anderson Cayola (CF) worked well together to unnerve TNS.
Wall and Shaw were providing brilliant deliveries into the box constantly and Gary Taylor-Fletcher was holding the ball up well as he so often does for his side. Cayola was, as mentioned before, menacing and created so much space for others around him before adding a goal himself from the spot late on. The partnership of Gosset and Allen in the heart of the midfield also paid off as they worked tirelessly throughout.
Many questions had been asked as to whether or not Nicholson was ready to take on the challenge of taking Bangor back to where they belong, but it seems to me that he is a quietly confident manager who knows how to get the best out of his players.
Friday night's win has already earned him some much deserved praise and now it is just a question of whether or not he can keep his side moving forward.
---
Of course, over and above all, we mustn't get too carried away over this result. It was the opening day of the season an every football fan knows that that can so often produce ridiculous scorelines and results.
On the other hand, Bangor are expected to challenge TNS for the Welsh Premier League title this season and so this was a great way to show their intent of doing just that.
One thing they will need is the consistency which they have lacked in recent seasons and if they can get a good run of victories together over the next few weeks then, judging by Friday's miraculous victory, anything is possible this season.
It was a LESSON for TNS to learn from and an opening match to remember for Bangor who must now keep their momentum going in their next Welsh Premier League fixture against Cardiff Met Uni next weekend.