OVER the years, the Premier League has showcased some of the finest talents from all over the world and some of the most gifted players of them all have hailed from the African continent.
From speedy forwards with cool finishing, to solid defenders who just loved a good old fashioned tackle, Africa has produced some phenomenal footballers over the years and we in the UK have been lucky enough to have witnessed some of them over here in our Premier Division.
In this article, AFEFootballNews picks out just 15 of the greatest African players to set foot in England …
Didier Drogba
Club: Chelsea
Position: Striker
Country: Ivory Coast
Probably the greatest of all African players to have played in the league, Drogba is a true Premier League legend.
With 104 goals in 254 Premier League games for Chelsea (during two separate spells there), he became a vital spearhead for their side and teams well and truly feared his physical presence.
His combination of speed and power made him a threat to the opposition and he had the gift of scoring crucial goals.
He won four Premier League titles with the blues (2004-05, 2005-06, 2009-10 and 2014-15) and proved himself as not only one of the best African players, but one of the best overall players in the Premier League's history. Take a look at some of his stunning goals below …
Yaya Toure
Club: Manchester City
Position: Central Midfielder
Country: Ivory Coast
Powerhouse midfielder Yaya Toure joined Manchester City in 2010, where he would link up with his brother, Kolo.
He came from Barcelona with a reputation of being a tough tackling, strong midfielder, who could score his team a goal or two and he certainly didn't disappoint.
By now he's scored 61 goals in 211 appearances for City and played a key role in both of their Premier League title winning campaigns of 2011-12 and 2013-14.
A four time winner of the African footballer of the year award, Toure has been a fans favourite at the Etihad for many a year now and has stamped his mark on the Premier League.
Still going strong for the time being of course, although the rumors suggest that this could very well be his last year at the Etihad. He scored this absolute corker against Arsenal last season:
Michael Essien
Club: Chelsea
Position: Central Midfielder
Country: Ghana
The Ghanaian became a midfield general for Chelsea for nearly a decade before his departure to AC Milan in 2015.
He was a tough tackling box-to-box player, with the ability to score an absolute screamer (like the one against Arsenal). His performances in the centre of the park for Chelsea helped them to league titles in 2005-09 and 2009-10.
168 appearances for the Blues saw Essien leave an impression in England and he will never be forgotten by the Stamford Bridge faithful.
He's actually still playing football too, having just signed for Indonesian League side Persib Bandung FC (not quite one of the best league's in the world, but still credit to the man I guess).
Nwankwo Kanu
Clubs: Arsenal, West Bromwich Albion, Portsmouth
Position: Striker
Country: Nigeria 
Kanu was a highly recognisable character with his lanky 6ft 4′ stature and such surprisingly quick feet to go with that large frame.
Most fondly remembered for his time at Arsenal, the Nigerian hitman's finest moment came in the 1999-2000 season, when he scored 17 times in 50 matches for the Gunners, including a hat-trick in fifteen minutes against Chelsea to turn a 2–0 deficit into a 3–2 victory. He left Arsenal after being a squad member for their 2003-2004 "invincible" season and with a record of 37 goals in 119 league matches.
Stints at West Brom and Portsmouth followed, where Kanu continued to score crucial goals for his sides.
He'll go down in Premier League history for his aerial ability and possessing such incredible technique for a big man.
Emmanuel Adebayor
Clubs: Arsenal, Manchester City, Tottenham Hotspur and Crystal Palace
Position: Striker
Country: Togo
The Togo international once stated that Kanu was his hero, even taking the number 25 shirt at Arsenal in honour of the big man. However, as it turned out, he would go on to be even better than him and all controversies aside (and there's been a few), he was a very decent player.
He came to England with Arsenal in 2006, signing from Monaco for a fee of around only £3 million. He played a bit part role until the departure of club legend Thierry Henry and it was after he left that Ade began to shine. Partnering Robin Van Persie (I really am sorry fellow Arsenal fans), they pair formed a deadly duo and one of the best attacking partnerships in the league at the time. He left the Gunners in 2009 with a record of 46 goals in 104 appearances.
After signing for City for around £25 million in 2009, Adebayor continued his fine form, scoring in his first four games for the club, including a goal against Arsenal (where he did his whole infamous running the length of the pitch to slide in front of the Gooners celebration). He then added salt to the wounds by playing for North London rivals Tottenham Hotspur, where he was again a pivotal player.
The last Premier League club he played for was Crystal Palace, where he was limited to appearances off the bench.
Adebayor's overall record in the Premier League stands at 87 goals in just under 250 goals, which is a respectable amount. He'll be remembered for his physical presence, his aerial ability and his wicked volleys.
Benni McCarthy
Clubs: Blackburn Rovers and West Ham United.
Position: Striker
Country: South Africa
McCarthy was a severely underrated striker in my opinion and has to be regarded as one of the best African players of the Premier League era.
Remembered by most for his time at Blackburn Rovers, the South African finished second top scorer in the Premier League in 2006–07 with 18 league goals to his name. He left Rovers in 2010 with a record of 52 goals in 140 matches.
He failed to live up to the hype after his move to West Ham in 2010 and failed to score a single goal in 11 appearances there.
However, I do believe that for that stunning season at Ewood Park alone, McCarthy deserves to be on this list as I remember watching him play and thinking just how good of a striker he was, he had a real poacher's instinct of knowing where to be at the right time. Like I said – underrated.
Kolo Toure
Clubs: Arsenal, Manchester City and Liverpool
Position: Center Back
Country: Ivory Coast
The older brother of the aforementioned Yaya, Kolo is the African player with the most Premier League appearances to his name, having played over 300 matches for Arsenal, Manchester City and Liverpool.
Bought to Arsenal from ASEC Mimosas (Ivorian side) by Arsene Wenger for just £150,000 in 2002, Toure would go on to make a real name for himself for the Gunners. At the start of their invincible 2003-2004 season, Wenger began using Toure as a central defender alongside Sol Campbell and the pair immediately formed an effective partnership, which led them on their way to that golden title. Touré quickly established himself as one of the best centre backs in the Premier League. He established himself as a permanent fixture in the Arsenal starting XI and as a fan favourite.
After leaving Arsenal for Manchester City in 2009, he became their captain. The Ivorian won the Premier League title and the second one of his career with them in the 2011-2012 season.
He joined Liverpool as a back up player in 2013 and featured off the bench for them mostly.
Toure is now playing for Celtic, but once he retires, he'll probably go down as one of the best African defenders of all time, not just in the Premier League, but in any part of the world.
Ayiegbeni Yakubu
Clubs: Portsmouth, Middlesbrough and Everton
Position: Striker
Country: Nigeria
"The Yak" first came to the Premier League when he signed on loan for Portsmouth from Israeli side Maccabi Haifa in 2003, when Pompey were in the Championship, and helped them clinch promotion to the Premier League, by scoring at a rate of a goal every two games.
The following season he signed permanently for a fee of £4 million and in his two seasons in the Premier League with Portsmouth, Yakubu's 28 Premier League goals made him the clubs' highest ever scorer in the Premier League, a record that still stands today due to their incredible downward spiral through the Football League system.
He moved to Boro in 2005, where he then went onto score 25 goals in 73 matches.
Then, a three year stint at Everton, where he was again proved himself as one of the powerhouse strikers in the league, finished with a record of 25 goals in 82 matches.
Since he left the Premier League, Yakubu has played for other clubs in England such as Leicester, Blackburn, Reading and currently Coventry. As well as this, he's also played in China and Turkey.
One of the top scoring African strikers in Premier League history, it has to be said that Yakubu was an absolute beast.
Steven Pienaar
Clubs: Everton, Tottenham Hotspur and Sunderland
Position: Winger
Country: South Africa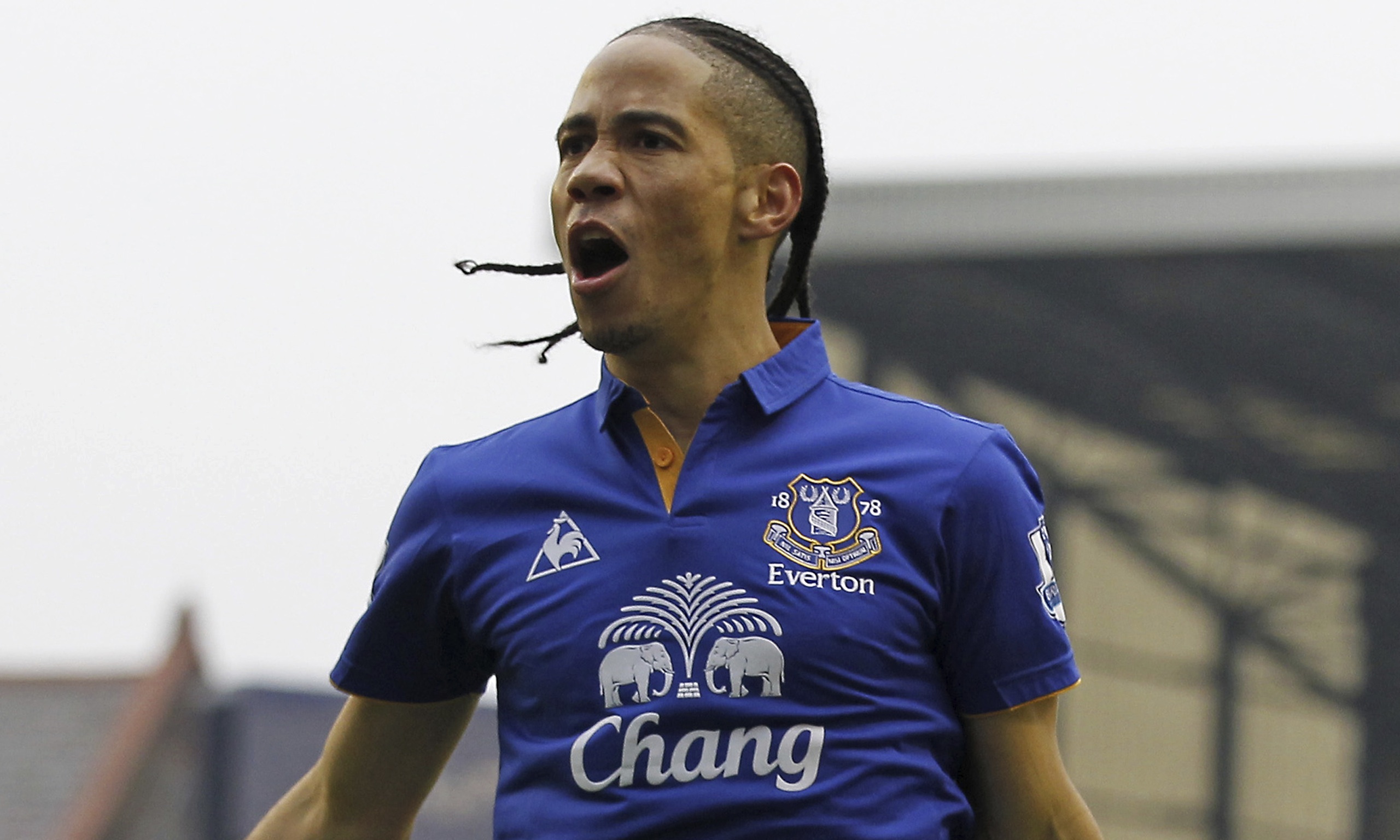 Another slightly underrated African player, Pienaar may be going weak at the knees with old age now, but he was once a pacey winger who loved to take on defenders back in the day.
The South African first played in England when he arrived on loan at Everton from Borussia Dortmund in the 2007-2008 season, before signing permanently in the following season. The fans grew to love him and despite missing 11 games through injury, Pienaar was named Everton's Player of the Season for 2009-2010.
In 2011, after many big clubs had chased his signature, Tottenham beat Chelsea to his signing, but in the end injuries had halted his progress at the club.
In 2012, Pienaar returned to Goodison park with Everton, who had clearly made a lasting impression on him the first time around. He made a much better impact than he did at Spurs, but eventually his injuries caught up to him once again and he was released in 2016.
Last summer, he signed for Sunderland and that is where he is currently plying his trade, reuniting with former Everton boss, David Moyes, in the process.
He may not be one of the greatest players in Premier League history, but he is certainly one of the best from the African continent and has made a real stamp on Everton.
Jay Jay Okocha
Club: Bolton Wanderers and Hull City.
Position: Attacking Midfielder
Country: Nigeria
"So good they named him twice" as my dad would say (he won him his workplace fantasy football league's cash prize two years running so he loves him). Okocha was quite simply a genius with a ball at his feet.
He became a hero with the Bolton Wanderers fans too, after signing for them on a free transfer from PSG following the 2002 World Cup. He steered Bolton team away from relegation with seven goals, including the team Goal of the Season in the vital league win against West Ham, which was voted Bolton's best Premier League goal in a fans vote in 2008.
The next season saw Okocha receive even more responsibility as he was given the captain's armband following Gudni Bergsson's retirement. As captain he led Bolton to their first cup final in nine years where they finished runners-up in the 2004 Football League Cup to Middlesbrough.
Okocha also had a very brief and unforgettable stint of 18 Premier League games with Hull in 2008.
His technical skill and first touch was second to none and he made a name for himself in the league as one of the finest African talents in the world.
Sadio Mane
Clubs: Southampton and Liverpool
Position: Winger
Country: Senegal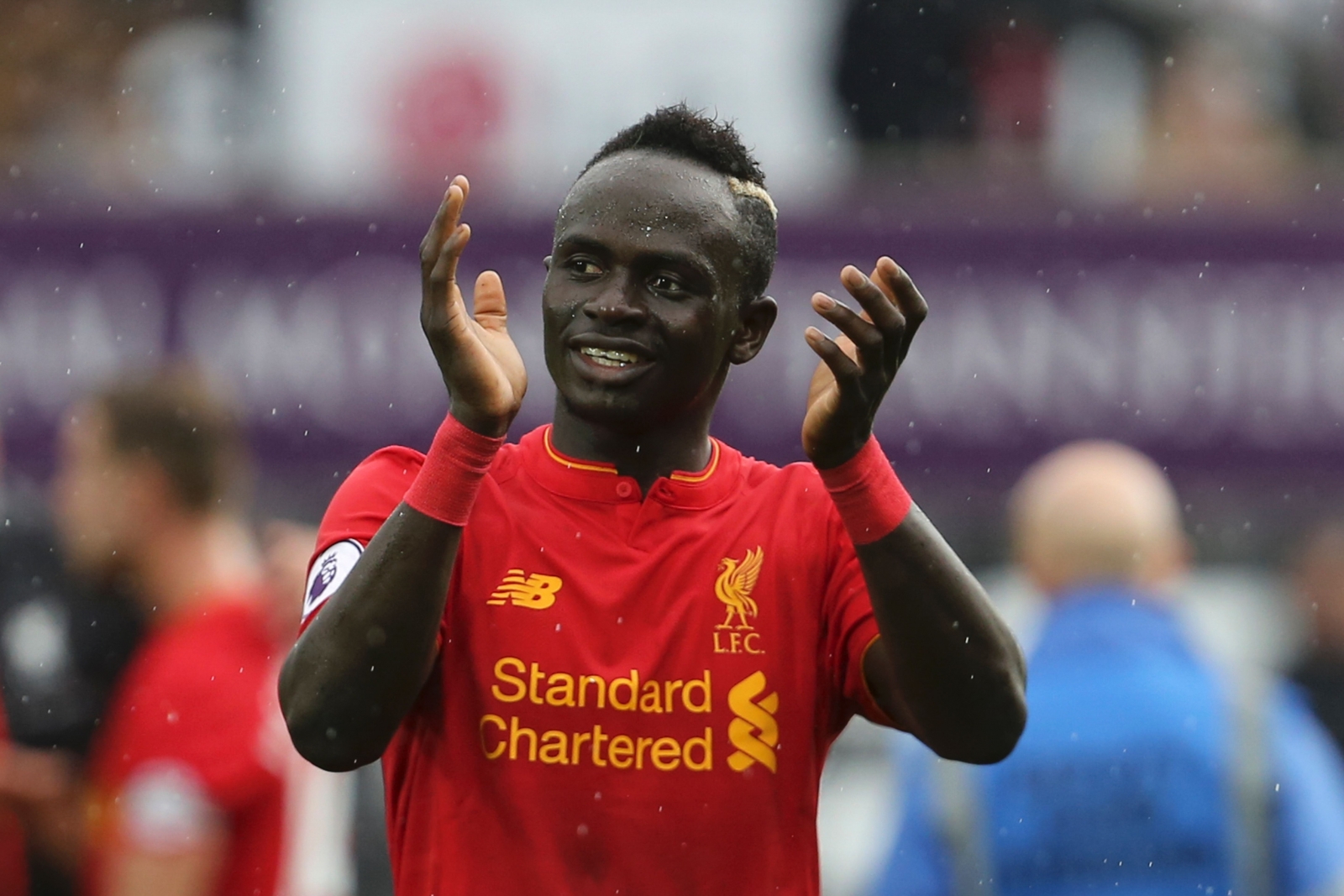 Probably the best African player in the Premier League right now, Mane is a little bit of skill, mixed in with a little bit of pace and the ability to score a goal or two, he's a real joy to watch at times.
He joined Southampton in 2014 from Red Bull Salzburg, in a deal worth around £11 million.
He went on to become a vital player for the Saints and added real attacking flair to their line-up. In may of 2015, during Southampton's final home match of the season, Mane scored three times in 2 minutes 56 seconds in a 6–1 win over Aston Villa to set a new Premier League record for the fastest ever hat-trick. The record had previously been held since 1994 by Robbie Fowler, who scored three goals  in 4 minutes and 33 seconds against Arsenal. He left Southampton for Liverpool last summer with a record of 21 goals in 67 league appearances.
He joined the Reds for a massive £34 million, making him the most expensive African player of all time. He immediately started to repay that price tag with a debut goal in a 4-3 win over Arsenal at the Emirates stadium. So far this season he has 12 goals and 6 assists to his name in just 26 appearances in the Premier League, which is a pretty impressive statistic.
At the end of the day, Mane is still only 24 years old and so if he continues to perform the way he is doing at the moment for the next few years, I believe that he could become a very special player indeed.
Freddy Kanoute
Clubs: West Ham United and Tottenham Hotspur
Position: Striker
Country: Mali
Despite the fact that Kanoute will be better remembered for his successes in La Liga with Sevilla, he was still a pretty recognised striker in his Premier League days.
In 2000, the Malian international joined West Ham, where he formed a solid partnership with Italian legend, Paolo Di Canio and after some promising appearances in the Premier League, Kanoute had some success at the Boleyn Ground, often praised for his ability, but also criticised for his laid back attitude. His record for the club stood at 29 goals in 84 matches.
He made a move across London to Tottenham in 2003 and was unable to cement himself as a regular at White Hart Lane, as Robbie Keane and Jermain Defoe were preferred. He became a less prolific goal scorer and instead was involved in attacks by setting up various goals with runs at the defence and creating space for other attacking players. 15 goals in 60 matches in the end.
Despite his laid back attitude and his less than average performances at times, Kanoute was still a sweet finisher of the ball when he really played well and deserves his place on this list, purely for his natural gift of scoring goals.
Lucas Radebe
Club: Leeds United
Position: Centre Back
Country: South Africa
In 1994, Radebe and another South African player, Philemon Masinga, moved to Leeds for a sum of £250,000. He was only included in the deal to keep Masinga happy; but as it turned out, he became the more valuable investment, turning out for the club over 200 times in the Premier League era.
After he was made captain in 1998, Radebe's career flourished and Leeds enjoyed a period of relative success; in the 1998–99 season, they finished fourth in the Premier League. During the 1999–2000 season, they went one step better and finished third, thus qualifying for the following season' Champions League tournament, where they eventually reached the semi-finals. During this time, the centre back turned down the chance to move to giants such as Manchester United, Roma and AC Milan.
A quick and dominant defender, Radebe established himself as one of the best centre back's around and became a Leeds and Premier League legend in the process.
Tony Yeboah
Club: Leeds United
Position: Striker
Country: Ghana
Another Leeds legend who hailed from Africa, Yeboah became a cult hero during his two years at the club.
Despite not being there long, he sure managed to grab the headlines on a number of occasions. He is still considered a legend at the Yorkshire club due to a series of memorable goals he scored, including his volley against Liverpool and his unstoppable strike against Wimbledon (which won goal of the season in 1995-1996).
The Ghanaian forward also scored two hat-tricks for Leeds in the league, one against Ipswich in April 1995 and the other against Wimbledon in September of the same year.
In his second and final season at Elland Road and indeed, the Premier League, he was voted Player of the Year and left with a record of 24 goals in 47 league matches.
Bizarrely, Yeboah often cited his good form and prowess while at Leeds was down to his love of Yorkshire pudding. Every little helps I guess!
That's it, 15 of the best African footballers to ever grace the Premier League! Agree with my list? If not, who did I miss out? comment below!
A special mention should also go to:
Algeria – Riyad Mahrez (Leicester).
Cameroon – Alex Song (Arsenal and West Ham), Samuel Eto'o (Chelsea and Everton), Geremi Njitap (Chelsea and Newcastle), Etame Lauren (Arsenal and Portsmouth).
Congo – Chris Samba (Blackburn and QPR).
Congo DR – Lomana LuaLua (Newcastle and Portsmouth).
Ivory Coast – Salomon Kalou (Chelsea),
Morocco – Mustapha Hadji (Coventry and Aston Villa)
Nigeria – Joseph Yobo (Everton), Efan Ekoku (Norwich and Wimbledon), Celestine Babayaro (Chelsea and Newcastle), Finidi George (Ipswich),
Senegal – Papa Bouba Diop (Fulham and Portsmouth) Papiss Cisse (Newcastle), Demba Ba (West Ham, Newcastle and Chelsea).
South Africa – Aaron Mokoena (Blackburn and Portsmouth) and Quinton Fortune (Bolton and Manchester United).
Zimbabwe – Bruce Grobbelaar (Liverpool), Peter Ndlovu (Coventry City) and Benjani Mwaruwari (Portsmouth, Blackburn and Manchester City).
---
All pictures in article belong to rightful owners and are taken from Google search of players names.